Optimum Performance On Stable Pillars
Satisfied customers are our primary goal. In order to be able to offer the best services possible, we constantly invest in highly qualified personnel and the latest technology.
North Sea Terminal Bremerhaven stands stable on a strong foundation. Our entire team is on duty every day for our customers and assumes responsibility.
You are cordially invited to get your own impression!
Aad Scholten,
Managing Director



With people for people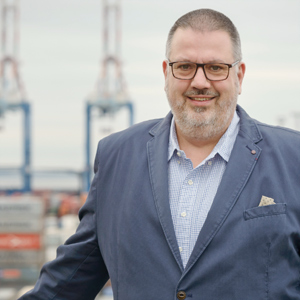 Finding sustainable and creative solutions for our customers.
Together as a team, always anew. That inspires us.
With people for people – that makes the difference for success.
Sören Krüger,
General Manager Finance and Administration